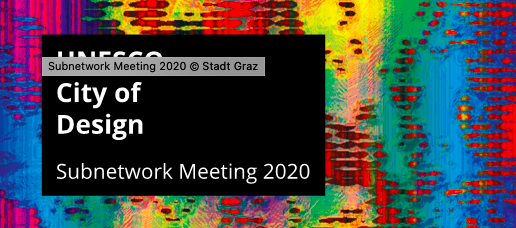 MindLab at UNESCO City of Design Subnetwork Meeting 2020
The social, smart and sustainable design of future cities
The UNESCO City of Design Subnetwork Meeting 2020, which was hosted by Graz in cooperation with St. Étienne, focused on the social, smart and sustainable aspects of urban development. From October 5th to October 7th the conference took place as a hybrid form – online via Zoom and live in a Studio in Graz. During the conference the participants discussed the development and design of future cities in three short films, keynote speeches and panel discussions with international experts, urban planners and designers.
The purpose of the first presentation/panel of the conference titled "Social Design" happened on October 5th was to determine which instruments and procedures can be used to positively influence and shape the social fabric and quality of life in a city. The architect and social designer Andrea Paoletti gave a key-note speech on the inclusive conception of design and talk about humans and social co-existence as the centre of social design in cities. After the opening, panel that involved MindLab member Dr Sofija Kaljevic, professor Karl Stocker and professor Rainer Rosegger continued the discussion related to multiple meanings, interpretations, and applications and of the term "social design," and how social design can be utilised to aid current living issues throughout the world.
It was concluded that the role of designing practitioners as well as scholars involved in different design fields has drastically transformed in last 20 years in order to accomodate current burning social issues but also radical environmental changes that impact everyday social life.
More about the conference here.