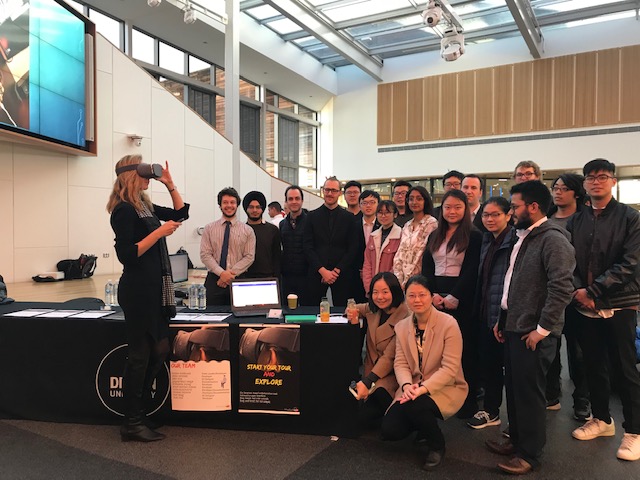 MInD Lab project proposal outcome part of the Industry-Focussed Capstone project exhibition at the School of Information Technology
May 24, 2019, School of IT, Deakin Burwood Campus
As an outcome of the Research Embedded Education initiative and strong partnership with the School of Information Technology, MInD Lab proposed and oversaw one of multiple projects presented at the School of IT final industry-focussed capstone project exhibition.
The Capstone Program is working on larger and long-term projects and teams of students are cycling in and out, working on specific project enhancements each Trimester. All projects have Product Owner (Industry Involvement) to set product vision, and Tribe Leader (Academic Involvement) to maintain technical direction. The Capstone Showcase at the end of each Trimester allows students to demonstrate their work to industry, alumni, staff and students. The program is designed to maximise student opportunity to create a strong folio piece, create an authentic project-based learning experience and to connect students with industry practices. Enhanced Graduate Employability is a key aim of the program. Students who enrol in a 1st Capstone Unit (SIT374 or SIT764) are considered Junior Students, while students who enrol in a 2nd Capstone Unit (SIT302 or SIT782) are considered Senior Students. The Senior Students focus on delivering new product enhancements, while also be responsible for mentoring and upskilling the Junior Students. The Junior Students be working with and under advice from the Senior Students, supporting the Senior Students in achieving their release goals, while scoping new enhancements for the upcoming release(s). High achieving students could potentially work across multiple squads to provide additional support as needed.
Mind Lab proposed the project titled Interactive Dynamic Immersive Data Sharing System, with the aim to bring in the key ingredients (dynamic, interactive and real time) into the collaborative and immersive experiences of the construction management, in preparation for the upcoming 5G networks. Altogether three students, two Mobile Developers and one UI/UX designer, participated in this challenge. The project was designed and observed by Prof. Tuba Kocaturk and Dr. Rui Wang.
On-site construction management and annotation sharing is a critical component for the successful execution of large-scale construction projects. Construction companies are keen to adopt new technologies to improve the efficiency of on-site construction management and hence profit margin. This project delivered mobile apps for virtual site monitoring through 360 video cameras, task management, and real-time information sharing via AR. The target scenario was the workflow at a construction site, among project partners in remote locations. The on-site staff can share information with the project collaborators (e.g. the scanned view of the construction site in real-time and mark-ups) in real-time some of which may be mapped directly onto the on-site person's view, mapped to the exact location depending on the kind of information/problem.